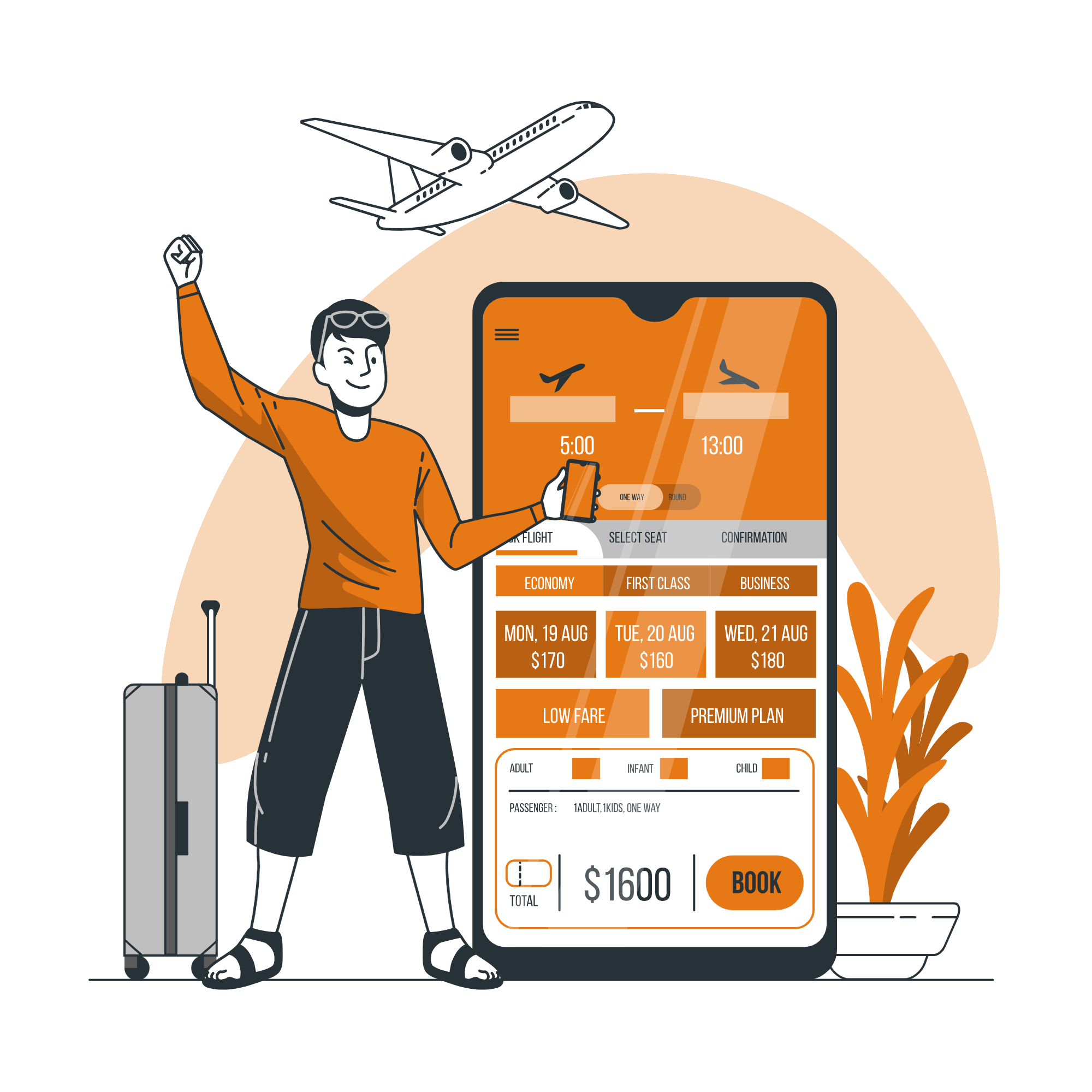 Travel App Development Company
Travel Application Development Services that Make a Difference
At Baxture, we are committed to providing top-notch travel app development services that elevate your business to new heights. Our custom-made travel apps are designed to offer a hassle-free and delightful travel experience for your customers. Explore the array of services we offer:
Travel Planning Solution: Our expert team provides a comprehensive travel planning app solution, enabling users to book custom-designed packages for flights, hotels, and more. This platform ensures a seamless planning experience, resulting in the best possible travel adventure.
Check-in and Boarding Solution: With our innovative mobile check-in and boarding solution, users can check in remotely and obtain e-boarding passes. No more waiting in long queues at airline counters or carrying heavy luggage. Additionally, passengers can select their preferred seats for added convenience.
Travel Management Solution: Our robust travel management solution offers an all-in-one platform for booking, reporting, and overall itinerary management. Whether it's a personal leisure trip or corporate travel, users gain complete visibility of their schedules.
Ticket and Hotel Booking: We excel in developing user-friendly mobile and web-based platforms for easy ticket and hotel booking. Customers can effortlessly inquire, check availability, and generate tickets for hotels, flights, and custom services.
Car Booking: Offer on-demand vehicle booking services at tourist spots with our dedicated platform. Our team can create user-friendly inter-city and inter-country vehicle chains, making on-demand travel more accessible.
CRM Solutions: Partnered hotels and travel agencies benefit from our custom CRM solutions to manage customer data and offer personalized services, increasing engagement and customer satisfaction.
Ad-Hoc Services: Our travel app development extends to currency conversion or exchange, translation services, finding local guides, and discovering local community centers, all in a single app for enhanced convenience.
Travel Portal Development: As a one-stop solution for tour operators and travel agencies worldwide, we offer travel website development services to sell travel packages, generate more bookings, and delight travelers with fully-customized travel portals.
GDS API and Sabre Integration: We specialize in integrating intuitive architectures with Global Distribution System (GDS) APIs, including Amadeus, Travelport, and Sabre, providing users access to vast inventories, such as hotels, tour packages, flights, and more, all in one platform.
Hand-Picked Features for Your Travel Business App
Our travel app solutions come with a plethora of features to amplify engagements and fulfill customer expectations:
Currency Converter for seamless transactions across currencies.
Complete Travel Guide for detailed insights and suggestions.
Secure Payment Gateway Integration for safe and hassle-free transactions.
GPS-Based Location Services for easy navigation and exploration.
Easy-To-Use Admin Control Panel for effortless app management.
Filtered Search for precise and efficient results.
Travel Guides offering valuable tips and information.
Reviews And Recommendations for informed decision-making.
Hot Deals to entice users with exciting offers.
Interactive Scheduling to plan itineraries with ease.
Push Notifications for timely updates and reminders.
API Integration to expand the app's functionalities.
Social Media Integration for easy sharing and engagement.
Comprehensive Reporting for data-driven decisions.
Well-Devised Search Engine for quick and accurate results.
Virtual Tour Guide for immersive experiences.
Our Travel App Development Process
As a reputable travel software development company, we follow an agile travel app development process to create robust travel and tourism software that generates revenue:
Planning and Analysis: We compile and analyze your business requirements, identifying potential pitfalls and ensuring technological viability for a successful application.
Design Product Architecture: Our technical architects and app developers create a high-level design plan, incorporating appealing and interactive UI designs to map out the app's flow.
Development: With the design finalized, we start building the prototype, giving you a glimpse of the final travel management software. This MVP version prioritizes core features for a quick launch.
Testing and Deployment: Our developers conduct rigorous testing to ensure a bug-free app. Once ready, we deploy the application across various platforms.
Product Support and Maintenance: We stand by you throughout the software development life cycle, providing ongoing support and maintenance to keep your travel app updated and running smoothly.
For more information contact us at https://baxture.com/contact-us/ or sales@baxture.com