Salesforce Managed Services
We advise you on how to maximize Salesforce's power by customizing the platform and aligning it with your business requirements.
Why
Salesforce
Salesforce, one of the most popular CRM platforms, is used by millions of businesses. It offers a variety of cloud solutions, including Sales Cloud, Service Cloud, Marketing Cloud, Einstein, Community Cloud, CPQ and Salesforce Data Cloud all of which are flexible and customizable.
Furthermore, once Salesforce is integrated with your company, your apps will be accessible remotely from anywhere in the world. Baxture provides full consulting services, from recommending the best salesforce solution for your company to customizing it to your specific needs and providing ongoing support after integration and integration with your business apps.
Profit from the advantages of proper salesforce implementation:
Process that is automated
You will save both time and money.
Obtain a complete picture of your customer.
Customer communication made simple
Receive real-time updates.
Increases the sales of your company
Reduces wasteful processes in your organization
Enhances customer engagement
Now maintain and evolve Salesforce
services in line with your business needs by onboarding Salesforce from its wide range of clouds.
It takes hours and sometimes days for your lead to move to the next stage in the sales funnel, as most of the time goes into doing research on the client, and then we try to connect with the lead. Before approaching leads, use Sales Cloud to gain a detailed understanding of them. Having a 360-degree view of a customer not only speeds up the sales process but also increases the chances of closing more deals.
Your sales team may not always be aware of salesforce's full potential. Allow Baxture to assist you with this. Our dedicated team first collaborates with your sales team to understand your company's sales strategies, after which we devise a plan to streamline your process.
How it works?
Information gathering: As our team and your sales representatives move through the sales process, they collect pertinent data about anything from how to generate leads to how to close them.
Information Review: At this stage, we review the information that has been received and map it to the best practices that are currently in use. We develop a solution to increase sales by streamlining and automating the sales process after identifying opportunities to improve sales performance.
Integration: Following the identification of the workflows that need to be automated, we integrate all of the applications that your sales team is using with Salesforce.
Implementation: Several features are implemented to automate the sales process, including automatic alerts, pipeline management, contract generation, lead management, mobile CRM, real-time reports and dashboards, and customer profile management (company and client view).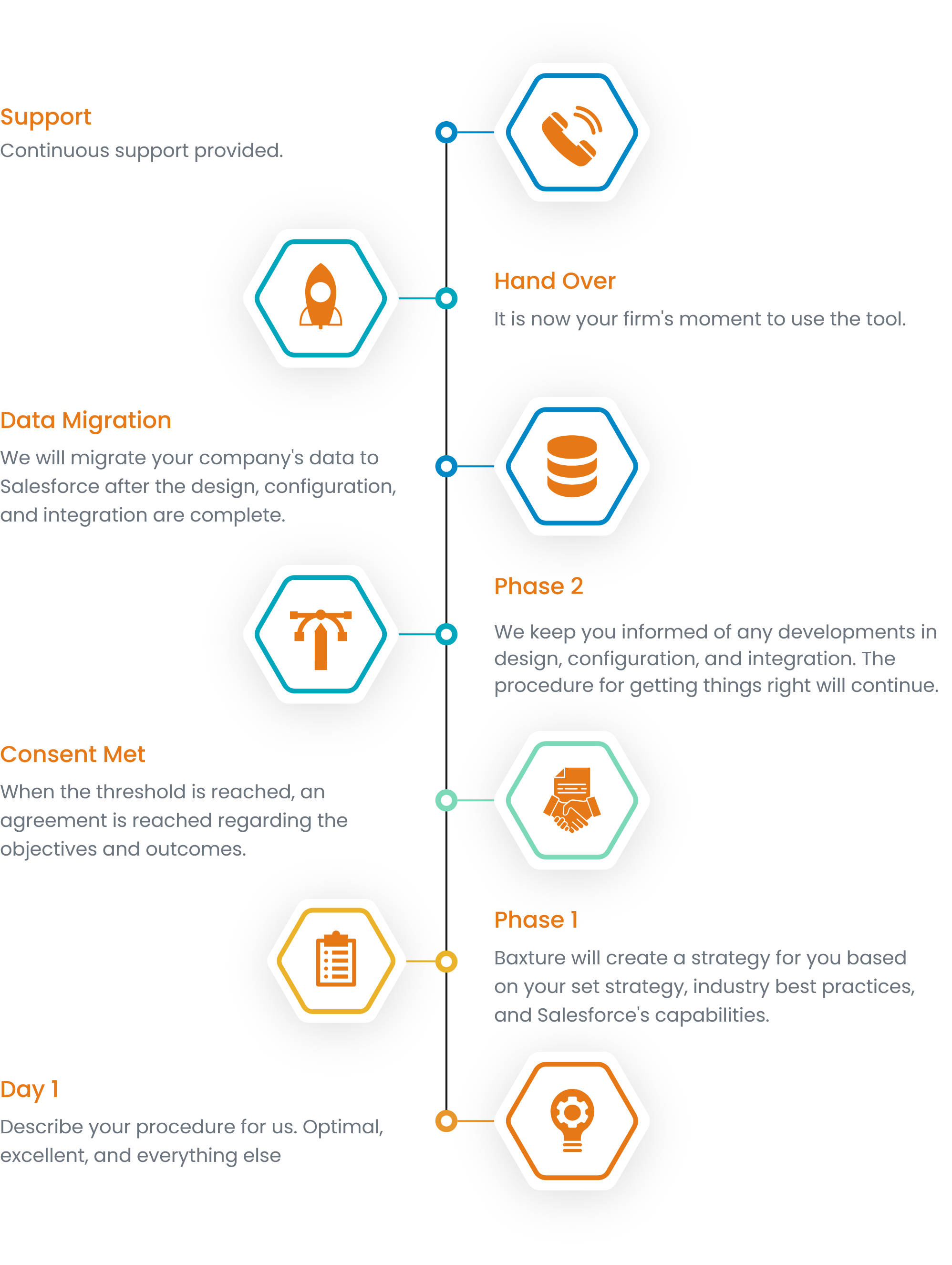 The market is teeming with competitors. Let's consider you have the best product that meets your expectations and requirements, but you are unhappy with the service. Customers today switch to competitors who provide better service.
A common issue is that as a company's client base expands, the service level begins to deteriorate. Superior customer service is essential for connecting with prospective clients and maintaining a stellar reputation.
Baxture, with the assistance of the service cloud, can help you change the way customer service works and put you ahead of the competition. You can provide a more personalized experience to your clients by properly implementing service cloud. A customer is most satisfied when he begins to refer more clients, resulting in increased sales and a higher ROI.
Our team assists you in onboarding service cloud with your applications using the best practices in the market, providing you with numerous benefits that will take your company service to the next level.
Real time update
Customer profiling
360-degree customer view
Contact Management
Workflow Automation
Third-party integration
Customization
Employee tracking
Automatic E-mail, Alerts, promotions.
In today's market, having a strong online presence is critical. It is not enough to simply have a responsive website or to be active on social media. When we begin marketing a product or service, it is all about communicating the correct message to the intended audience. A well-targeted message that meets the needs of the target audience leaves a lasting impression and can lead to more leads through referrals.
Baxture assists in the integration of Marketing Cloud into your system, allowing your software to map the customer journey and facilitate it with personalized and one-to-one communications. After learning about your marketing process, we map it against the market's latest and best practices and make several suggestions to automate it:
Automatic personalized and thoughtful emails sent on a regular basis to your customers about your products and services that help them learn more about your services, resulting in higher conversion rates.
Follow-up reminder automation can keep your sales team on top of the most qualified leads.
Tracking your customer's journey and determining the average time it takes him to complete a transaction.
Create a marketing calendar and automate your social media posting to maintain brand consistency.
Using Google Analytics, Tableau, and Power BI, you can automate report generation and save countless hours spent on data visualization and basic analysis.
Create a chat box to help you communicate with your clients more effectively.
How often do your sales and marketing teams get their estimates right? Consider having an AI that gives your team recommendations based on the data that is being worked on. Not only will your estimates be correct, but the guesswork will be eliminated. Salesforce Einstein is your personal data scientist who assists you in improving your data metrics and determining the causes of business outcomes.
Baxture makes life easier for your sales and marketing teams by integrating Salesforce Einstein into your work flow based on your business process to ensure you can fully reap its power. Benefits of Salesforce Einstein implementation:
Create a data-driven sales culture.
Allow your applications to collect data from texts, emails, and calendars.
Your applications will make recommendations based on the data collected, providing more data insights into which leads are most likely to be closed and which require more work.
Forecasting with AI-powered insights eliminates the need for guesswork.
Online communities have become an essential component of any company's CRM strategy, regardless of its size. Employees, shareholders, partners, and, most importantly, customers are all part of these communities. Having a social platform for your business brings your customers closer to you by allowing them to post questions, reviews, and interact with other members of the community.
Baxture helps Communicate Cloud in integrating with Salesforce, which can be used for sales, service, or both and can be further customized based on your needs. The following are some of the capabilities of Community cloud when integrated:
Create a community with multiple templets by utilizing Salesforce Tab and lightning web components.
Use basic search, advanced search, and type-ahead search to improve your content management.
Customize your community by adding your brand, tabs, functionality, and more.
Using HTML and JavaScript, you can create visually appealing pages with the best user experience.
Allow your customers to assist themselves by creating a knowledge base that provides quick answers to questions or queries.
Together, Baxture and Community Cloud will improve customer engagement, increase productivity, make the best use of available resources, and assist your company in growing sales.
Salesforce CPQ (Configure, Price, Quote)
Knowing how much things cost is an important business tenet. Companies spend their revenue to keep their operations running, so minimizing outgoings is high on the priority list for any dependable company. This is where having access to price quotes comes in handy.
In today's world, having a tool that generates quotes for orders quickly and accurately is a huge advantage. Our team assists you with Salesforce CPQ onboarding, which will transform your company's marketing, sales, service, and operations. Salesforce CPQ allows your sales team to easily customize sales orders by streamlining the pricing, discounting, and approval processes.
How is Salesforce CPQ implemented?
In-depth examination of your company's key performance indicators (KPIs) and business processes.
Examination of your company's CRM and website (number of users on CRM and visitors on company website)
Categorize business units based on their products, prices, and quotations.
Pricing, discount percentages, resell value, volatile value, and other fields that will be automated are recommended.
UI design and configuration will include front-end and back-end development as needed by the client.
The final stage of deployment will take place after we and the client have completed software testing.
A customer database is a compilation of data on a company's clients, including contact details, past purchases, preferences, and other pertinent information. It is impossible to exaggerate the importance of a client database because it gives businesses useful information that they can use to enhance their marketing, customer service, and overall profitability. Having a customer database has several advantages, including better marketing, more sales, and lower costs.
Despite having access to such a large database, organizations continue to struggle with extracting value from their consumer databases. Customer databases are accessible on a variety of platforms that are utilized by customers, and they can only be combined into one platform that is both current and useful for business.
By integrating Salesforce Data Cloud with your current Salesforce platform, we at Baxture make it possible for your company to gather customer data from many apps, harmonize it into something usable, and use it to serve consumers.
The following are just a few of Salesforce Data Cloud's integrated capabilities:
Gives each organization the ability to connect and synchronize its customer data.
Makes every client experience more personalized by offering recommendations and developing insights using built-in AI from Einstein and strong automations.
Gives your company a unified customer perspective across sales, service, marketing, commerce, and more.
With low-code tools, there is potential for greater personalization when applying these experiences.
There is built-in security to protect the data.